Water and Fire Damage Restoration, Mold Remediation and Remodeling Services
Clarke Contractors is an A+ BBB rated full-service restoration contractor in the Cincinnati, Dayton and Northern Kentucky area. We have the resources, manpower and technical know-how to get the job done right and exceed your expectations. Critical to delivering on that promise is our belief that "every job is a self portrait of those who did the work."
We know dealing with water, flood or fire damage, mold contamination or damage from a sudden storm can be stressful. You can rest at ease knowing we've been doing restoration, clean-up and repair for more than 20 years. We pride ourselves in our emergency response time. With offices located in West Chester and Dayton Ohio, our team can respond to a water damage, fire or storm damage emergency before damage worsens.
And as a top nationally ranked remodeler, we can build or give new life to your business or home after an incident occurs. In addition to our repair and restore services, we also specialize in complete kitchen, bath and basement renovations along with new room additions.
Regardless of the work we're doing. when you invite us into your home or business, you can be sure we'll treat it with the same care and respect we would give our own. We'll take every measure to ensure your property is clean and secure throughout the project. And we'll do our best to complete the job fast with minimal disruption.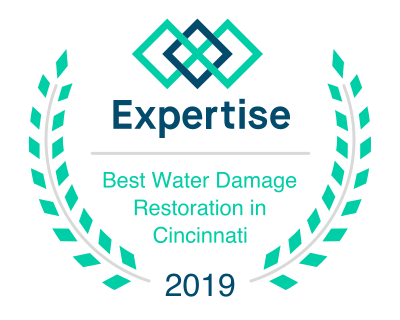 Serving greater Cincinnati, Dayton and surrounding areas, our water damage teams stand ready to respond 24/7 to your flooded basement, ruptured pipe or any other water emergency. We deploy specially equipped trucks dedicated to water removal and drying. Our IICRC certified team follows S500 cleaning guidelines and we back our work with a 3 year workmanship warranty. Water damage can be serious. Clarke Contractors has more than 20 years' experience and considered the area's best for restoring water damaged homes and businesses.
Water Damage
Whether caused by accident, arson or natural disaster, fire and smoke damage can devastate a home or business. And often times firefighting efforts lead to extensive water damage. A fire can also leave your property exposed to the elements. A fast response is critical. Clarke combats fire, smoke and odor damage with the industry's best equipment: Ice Blasters. A better and eco-friendly alternative to sand blasting, dry-ice blasting deep cleans soot, charring and smoke, and removes musty odors. Best of all, it doesn't cause surface damage to floors, walls, nails, fixtures, and electrical components. Contact us to learn more about the benefits of dry ice blasting.
Fire Damage
Clarke Contractors certified mold experts will isolate the mold and remove the contamination. In addition to the removal, we identify the source of the mold so steps can be taken to prevent future occurrences. Contact us to learn more about our mold removal services and schedule a free mold evaluationx.
Mold Damage