Servicing Cincinnati, Dayton, Northern Kentucky and Surrounding Areas
#1 Fire Damage Cleanup and Restoration Team

Fire Damage Repair / Restoration
Complete fire mitigation and clean-up services for fire damaged homes and businesses.
Fire events can be limited to a small appliance or encompass the destruction of an entire home. Whether caused by an electric malfunction, accident, arson or natural disaster, we understand fire and smoke damage can be overwhelming. To add to the burn, firefighting efforts often lead to extensive water and flooding damage. Remember, a fast response is critical in salvaging contents and property.
Servicing Cincinnati and Surrounding Areas for more than 20 Years.
Clarke's Fire damage restoration work extends more than 20 years. We have the experience and technical know-how to secure your home, prevent further damage and restore it to pre-fire condition.
5 Fast Fire Prevention Tips
Properly maintain your heat source - Have your heating system serviced regularly, including chimneys from wood-burning fireplaces. Clean around heat sources and keep dust and other flammable items away from ignition sources.
Get the lint out - Remove the lint from your dryer filter after every use. A clogged filter and lint trap reduces the airflow and causes heat to build up, and forces lint onto the heating coils which can spark a fire. Also, it's not a good idea to let your dryer run when you are out of the house.
Electric cords - Replace old, damaged or frayed appliance and extension cords and never force a three-pronged plug into a two-slot outlet or extension cord.
Grease fires - In the event of a grease fire, turn off the burner and place a lid on the pan to suffocate the flames or use baking soda or salt to smother the fire. Never put water on a grease fire or try to carry the pan to a sink or outside.
If you're going to smoke - Be sure to properly extinguish smoking materials. Smoking materials that are not properly extinguished can smoulder undetected for days before igniting a fire. Never discard smoking materials in a trash can or potted plant.
Local fire restoration experts providing complete fire and smoke damage services.
Board Up and Tarp Off
Emergency 24/7 Service Available
Fire Damage Assessment
Clean-Up / Debris Removal
Smoke and Odor Mitigation
Water Extraction / Dryout
Content Restoration
Structual Repair
Remodeling Services
Ohio / Kentucky Water Damage Service Area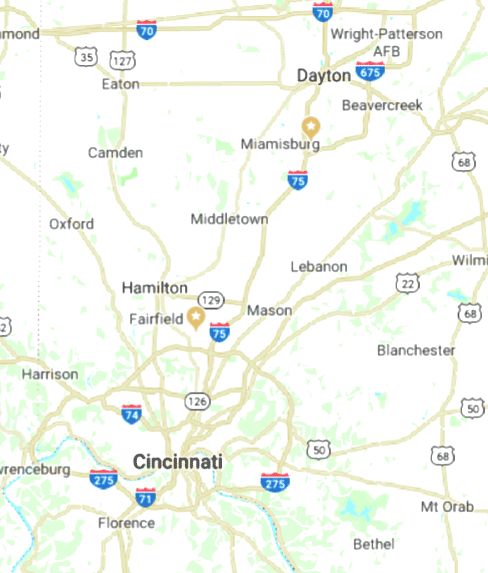 Our Fire Damage Repair and Restoration Process
After the Fire, Fast Response is Critical. We Provide...
Emergency Service 24/7/365
We're available anytime and we respond fast.
Secure Structure / Property
Inspection and Fire Damage Assessment
Board-Up Services (as needed)
Roof Tarping (as needed)
Clean-Up / Remove Debris
Smoke, Odor and Water Mitigation
We have the equipment to take on the destruction caused by fire and the damage that is often caused by water to extinguish the fire.
Water Extraction / Structual Drying
Dry Ice Blasting (removes soot without damaging structure)
Ozone Generators (odor removal)
Hydroxyl Generators (odor removal)
Content Preservation and Restoration
We take special attention and care to restore your personal property.
Full pack-out/move-out of contents
Assess what is salvageable, unsalvageable and disposable
Proprietary EPA approved Ozone Room to treat smoke odor on large items
Photograph, bar coding and inventory of contents
Repair and Restore to Normal Condition
We are experts at repairing structures damaged by fire, water and/or mold.
Complete repair and remodeling services
20 + Years in Business
Customer satisfaction guaranteed
A+ BBB rating
Why Choose Clarke Contractors?

We Have the Expertise

We have been in business 20+ Years! Clarke Contractors is the largest full-service restoration contractor in the Cincinnati, Dayton and Tri-State area.

We Have the Resources

We have the equipment, certified professional staff and technical know-how to get the job done right and exceed your expectations.

We Respond... FAST!

Our emergency services are available 24/7 and we move fast. We've seen the worst and can handle the call any time of night or day.

Satisfaction Guaranteed

We guarantee workmanship with a three-year warranty. From the first phone call to the final walk-through, we put customer satisfaction first.
Learn more about Clarke Contractors, Inc.
With an A+ BBB Rating and recent winner of the 2018 BBB Torch Awards for Business Ethics, customer satisfaction come first.
We have the resources, manpower and technical know-how to get the job done right and exceed your expectations.
Company Info
We Work With Insurance Providers, Adjusters and Property Owners